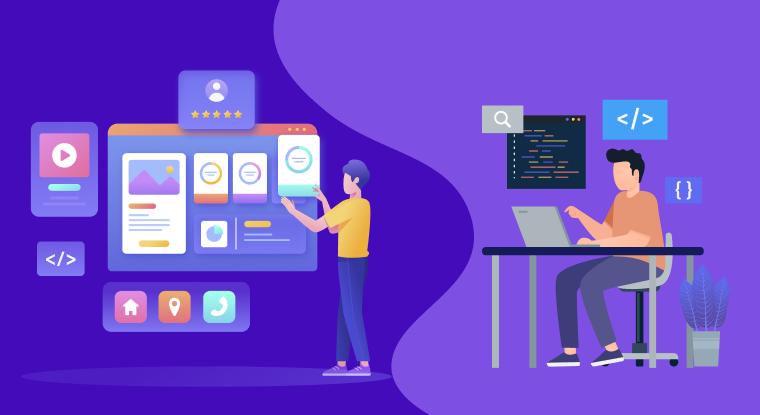 Having an online presence can boost your engagement if you have a business. So, if you need a website but need help with how to proceed, what's the best option?: using a website builder or coding the entire site? Are there other ways?
Previously, websites were usually created using coding, requiring knowledge of HTML, CSS, PHP, and Javascript. However, it's only feasible for some to learn these skills.
Fortunately, online website builders have emerged as an alternative, enabling users to create a website quickly without compromising on necessary features. Nowadays, several best website builders in India, like WordPress, are widely used.
They make building websites a breeze without knowing advanced coding knowledge. So, choosing an intuitive and the best website builder that meets your needs is crucial.
Also, you require a hosting site to host your website after creating a website. There are many web hosting sites available on-demand in India. This guide will help you to know about these sites in detail.
Benefits of Coding Your Website
If you code your website, you get complete control of your site and add different customisations. It helps you create your website and functions as you want.
You get full ownership of your site and can easily change or make changes afterwards.
Custom-coded websites are more secure than pre-built templates. In addition, with custom-coded websites, you can quickly scale it with the growth of the business and the website.
You can easily integrate your site with other systems using custom codes.
Benefits of Using a Website Builder
You can easily build a website from scratch using drag-and-drop features. In addition, website builders make it possible to build a website very quickly. For example, you can create a website under 20 minutes.
With time, you can quickly expand your website if you require more pages or content.
You also get technical support and maintenance services from the website-building platforms.
Key takeaways
Creating a website using code is complex but allows adding custom features.
You can use a simple website builder to build your website quickly.
You can add a hybrid approach to create a website using a website builder and add custom code to your desired features.
Hybrid Approach to Build Your Website
Besides using a website builder or code to make your website, you can use both altogether for creating a website. This hybrid approach provides added advantaged and helps you manage your website effectively. In addition, pre-built templates and plugins are available that you can use for additional features on your site.
Conclusion: Which Is The Right Solution for Your Business?
It solely depends on you to code a website or use a website builder to create your website. However, you can go for it if you have technical knowledge and can invest time and effort to build a website from scratch.
Besides, if you have less time and other priorities, you can hire someone to build your website. Many developers can build a website for you at an affordable cost and in less time.
Further, you will always have the option open for using the hybrid approach, where you can build your website from a website builder and timely add features using coding as per your requirements.